History of the Mesa Temple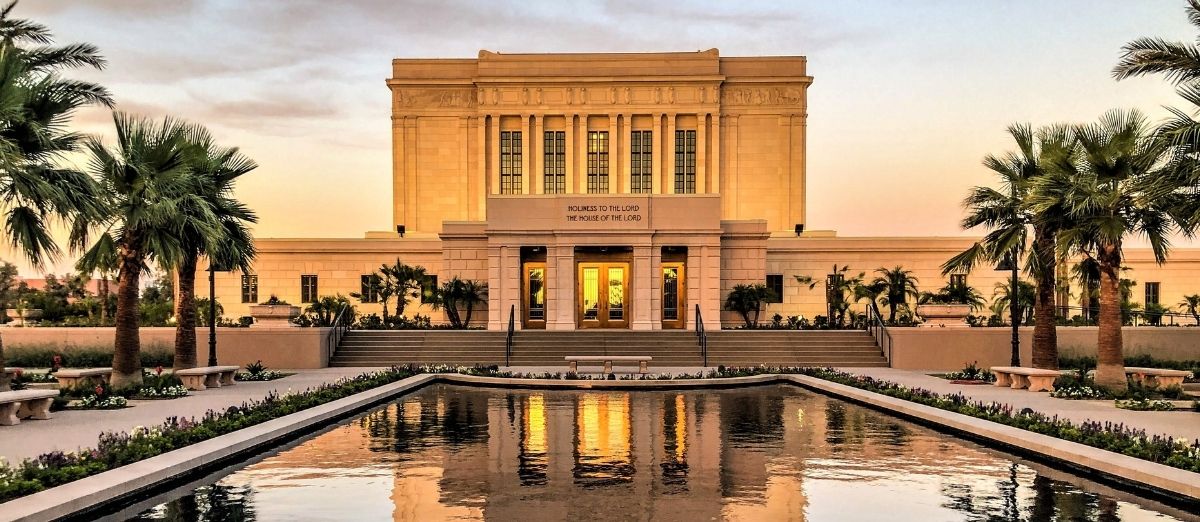 Although temporarily closed due to renovation, the Mesa Temple, dedicated in 1927, is the 7th of 160 operating temples of The Church of Jesus Christ of Latter-day Saints. It was dedicated by Church President Heber J. Grant in 1927, and its massive structure dominated Mesa's skyline for decades, often being referred to as a "sermon in stone."
Since it opened, visitors have come from all over the world come to this sacred site for its beauty and religious significance. Members of the Church gather inside the temple for sacred religious ceremonies that bring them closer to God, while tourists come to view the temple grounds and enjoy the visitors' center.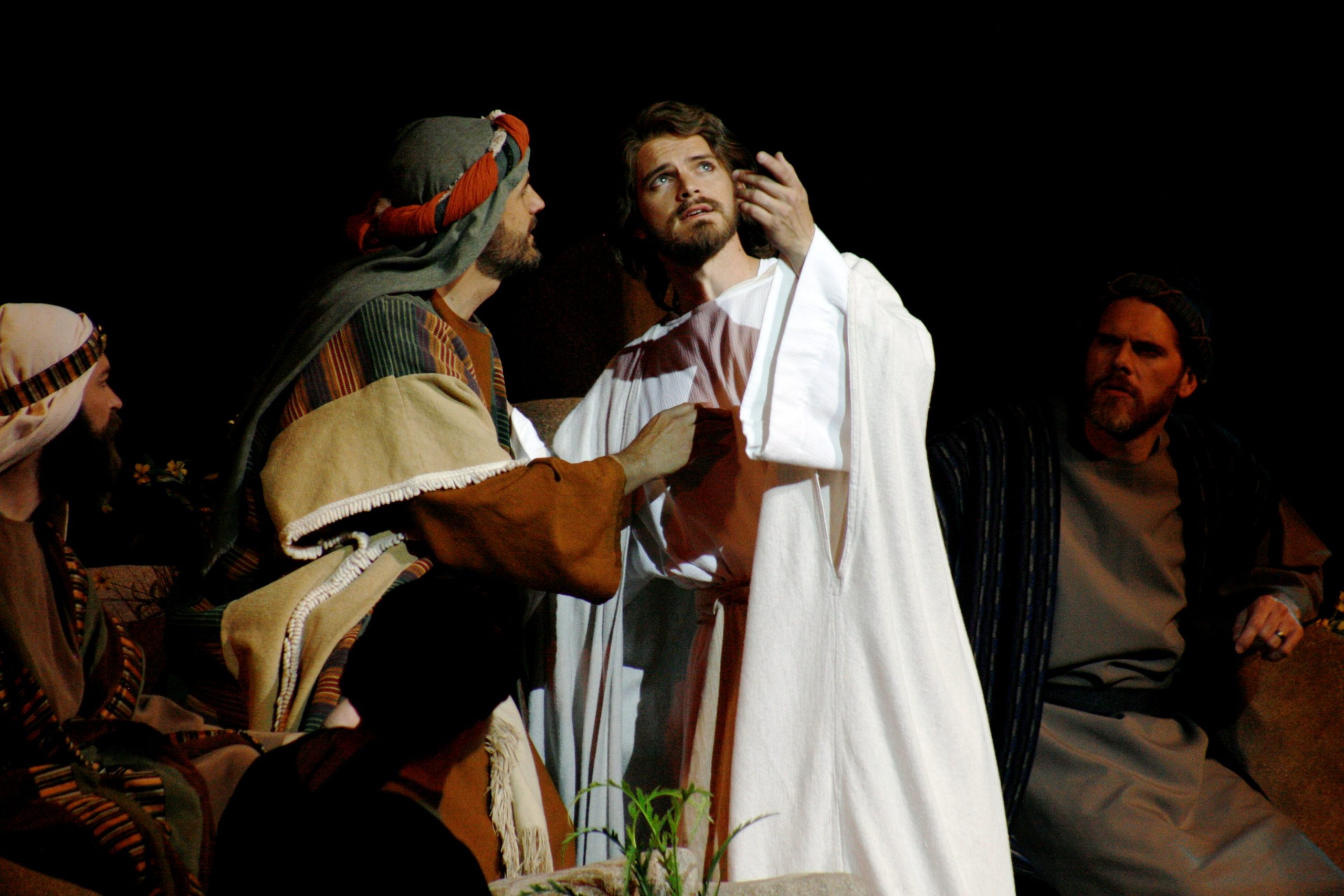 Two popular events, both held annually, bring additional visitors to the temple grounds: The Mesa Easter Pageant and the Temple Gardens Christmas Lights Display. These events will resume after the temple is opened again.
Since the earliest days when the first members of the Church began settling in the area, sent by Brigham Young in an effort to colonize the West, devout members of the Church longed for a temple for sacred ordinances. The closest temple was in St. George, Utah, causing young couples desiring to be married there to travel by wagon, and the well-trod path became known as the "Honeymoon Trail."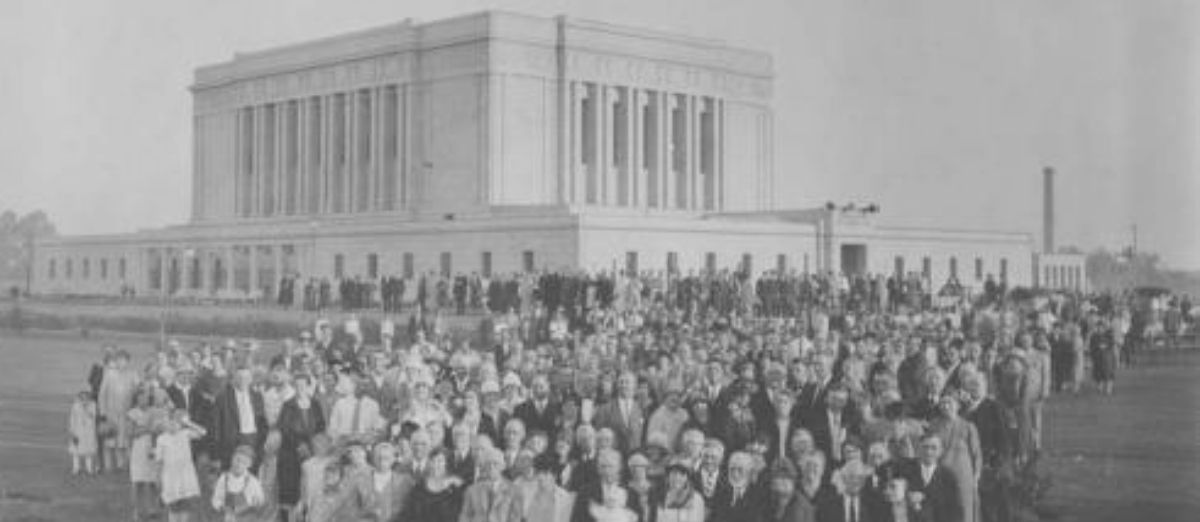 In 1919, Church president Heber J. Grant announced that Mesa would be the location of the first temple in Arizona and in 1922, ground was broken on a 20-acre lot bordered by Main Street, Hobson, First Avenue and LeSueur. The design was inspired by Solomon's Temple in Jerusalem.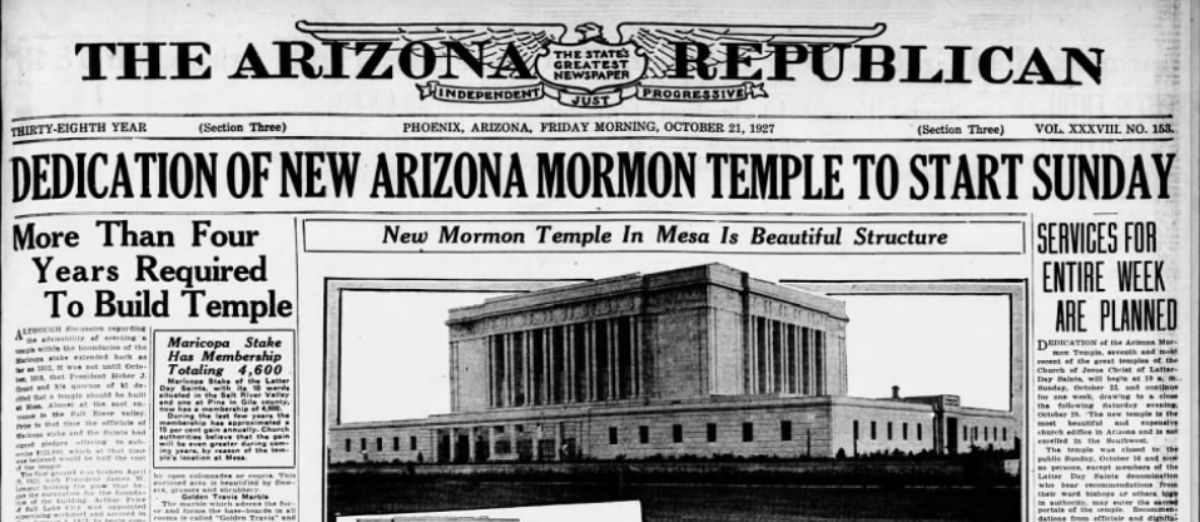 The temple's dedication in 1927 was a four-day event and newspapers across the country reported on it, stating that "5,000 of the faith and 5,000 of the friendly" attended the first day's gathering, and, on the second day, a choir of 300 Americans, Indians and Mexicans on the temple roof gave a public concert of "simple thanks and praise."
After the temple opened in 1927, it quickly became a beloved centerpiece of the community and a gathering place for all residents.
In 1974, the temple was closed for renovation after serving the Saints in Arizona, as well as a number of neighboring southern states as far as Florida and much of Mexico, for 47 years. After the renovation was complete, the temple was open to the public for two weeks, in which more than 200,000 visitors toured the temple.
In April 1975, Church President Spencer W. Kimball performed the historic rededication, as this was the first time a temple had been reopened to the public and then rededicated.
In 2018, under the direction of Church President Russell M. Nelson, church officials announced that the Mesa Arizona Temple would close for a major renovation of the building and surrounding grounds. After the three-year project, a public open house will be held Saturday, Oct. 16, through Saturday, Nov. 20 (except Sundays) and the temple will be rededicated Sunday, Dec. 12, by President Dallin H. Oaks, first counselor in the First Presidency and president of the Quorum of the Twelve Apostles of The Church of Jesus Christ of Latter-day Saints.